Step into the enchanting world of feline fashion with our curated list of 15 Purrfect DIY Halloween costumes for your beloved cat. Unleash your creativity and transform your furry friend into a Halloween sensation that will steal the spotlight.
From mythical creatures to classic characters, our costume ideas are not only adorable but also easy to create at home. Whether your cat is a diva, a superhero, or a mischievous wizard, we've got the perfect costume to showcase their unique personality. Dive into the magic of Halloween and create unforgettable memories with your feline companion.
15 Purrfect DIY Halloween Costumes for Your Cat
Witchy Whiskers: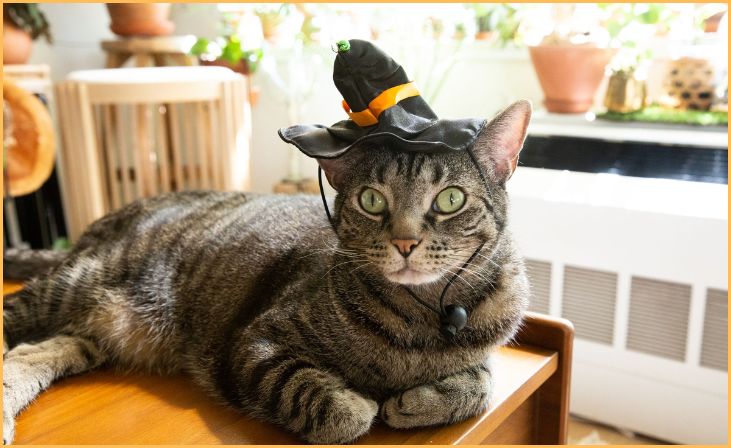 Transform your feline friend into a bewitching beauty with this DIY witch costume. Craft a miniature witch hat using felt and secure it comfortably on your cat's head with an elastic band. Add a stylish cape made from a lightweight fabric to complete the look. Ensure the hat is not too tight, and your cat will rock the Halloween night with an enchanting flair.
Also Read: Teaching a Stubborn Cat: Tips for Successful Litter Box Training
Superhero Kitty:
Make your cat's inner superhero come out with an outfit that screams "purr-owess!" Use soft cloth to make a superhero cape, and use a Velcro strap to keep it around your cat's neck. Make a mask that goes with it to add to the surprise. See how your cat stalks the night in a very stylish way, ready to save the day.
Magical Merkitty:
Dive into the realm of fantasy by transforming your cat into a mystical mermaid. Craft a shimmering fishtail from iridescent fabric, ensuring it allows easy movement. Add some adhesive velcro strips to secure the tail gently around your cat's waist. With a touch of creativity, your cat will enchant everyone with its underwater charm.
Paw-some Pumpkin:
Embrace the classic Halloween spirit with an adorable pumpkin costume for your cat. Utilize orange felt to create a pumpkin-shaped body piece, securing it comfortably with adjustable straps. Add a green felt stem to the costume and let your cat embody the essence of Halloween with this timeless and charming outfit.
Dapper Doctor Cat
Turn your cat into a sophisticated healer with a DIY doctor costume. Craft a tiny lab coat using lightweight fabric, ensuring it doesn't hinder your cat's movement. Add a felt stethoscope for that extra touch. Watch as your feline friend makes house calls and spreads healing vibes in this paw-sitively delightful ensemble.
Cute Cat-erpillar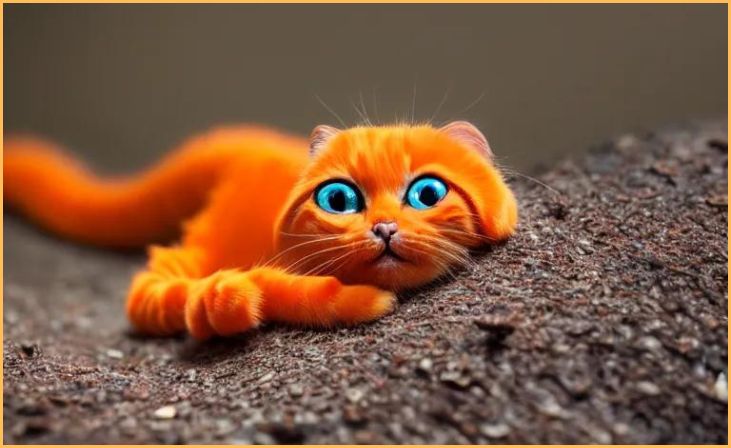 Embrace whimsy with a delightful cat-erpillar costume. Craft colorful felt circles, attach them in a row along your cat's back, and secure them with a soft elastic band. This playful and imaginative costume will showcase your cat's playful personality, making it a hit at any Halloween gathering.
Vampire Vixen
Give your cat a touch of Dracula's charm with a vampire costume. Create a tiny cape using velvet or satin fabric, securing it around your cat's neck. For added flair, craft a felt collar with faux gemstones. Your cat will turn heads with its elegant and mysterious Halloween transformation.
Also Read: Cat Breeds for Your Zodiac Sign
Dashing Dinosaur
Transport your cat back in time with a roaring dinosaur costume. Craft a felt dinosaur spine along your cat's back, securing it gently with adjustable straps. Add a matching headpiece for a complete prehistoric look. Watch as your cat stomps into Halloween festivities with this dino-mite costume.
Pirate Paws
Set sail on a Halloween adventure with a pirate-themed costume for your cat. Craft a pirate hat using felt and secure it comfortably on your cat's head. Add a tiny eye patch for that swashbuckling touch. Your cat will plunder hearts with its adorable pirate persona at any Halloween celebration.
Floral Feline Fairy
Add a touch of magic to your cat's Halloween look with a floral fairy costume. Craft delicate flower petals from silk or felt, attaching them to a lightweight harness. Adorn your cat with a tiny pair of fairy wings for that ethereal charm. Your feline fairy will spread enchantment wherever it goes.
Space Explorer Kitty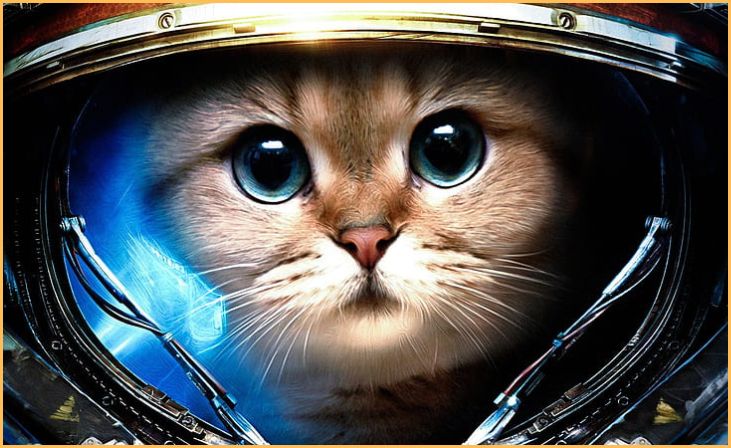 Blast off into space with a cosmic cat costume. Craft a tiny astronaut suit using silver or metallic fabric, ensuring it allows your cat to move freely. Add a matching helmet for an out-of-this-world look. Your cat will be ready to explore the universe in this stellar Halloween ensemble.
Chef Cat-tastrophe
Cook up some Halloween fun with a chef-inspired costume. Craft a miniature chef hat using fabric and secure it on your cat's head. Add a felt apron for that culinary touch. Your cat will steal the show with its adorable chef persona, turning Halloween into a delightful feast for the eyes.
Clever Cat Burglar
Embrace the mischievous side of Halloween with a cat burglar costume. Craft a miniature eye mask using felt and add a striped fabric pouch for that loot-stealing flair. Watch as your cat prowls through the night, stealing hearts with its cunning and charismatic burglar persona.
Enchanted Unicorn
Add a touch of magic to your cat's Halloween with a unicorn costume. Craft a whimsical unicorn horn using colorful felt and secure it gently on your cat's head. Create a matching mane using soft fabric for that enchanting finishing touch. Your cat will prance into the Halloween festivities with mythical grace.
Also Read: Indoor Cat Breeds
Ghostly Glamour
Embrace the simplicity of Halloween with a ghost costume for your cat. Craft a lightweight white sheet with eye holes for a classic ghost look. Ensure the fabric allows your cat to move freely. Your ghostly cat will evoke a sense of timeless charm, making it a hauntingly adorable addition to any Halloween gathering.
Conclusion
As the bewitching night approaches, let your cat be the star of the Halloween show with these 15 charming DIY costumes. Crafting these ensembles not only adds a personal touch to your celebration but also strengthens the bond between you and your furry friend. From cute to spooky, our costume ideas cater to every cat's style. Embrace the Halloween spirit, capture Instagram-worthy moments, and revel in the joy of creating everlasting memories with your costumed companion.
FAQs
To ensure your cat is comfortable, choose lightweight and breathable fabrics, introduce the costume gradually, and monitor their behavior. If your cat seems stressed, consider alternative accessories like festive collars or bandanas.
Yes, our DIY costumes prioritize safety. Avoid small parts that your cat could ingest, ensure the costume allows free movement, and never leave your cat unattended while dressed up. Always prioritize your cat's comfort and well-being during the Halloween festivities.