Pizzelles are a traditional Italian waffle cookie that has gained widespread popularity worldwide for their delightful taste and elegant design. Pizzelle making is an art, and the perfect pizzelle requires not only the right ingredients but also the right equipment. This is where the best pizzelle makers come in.
A pizzelle maker is a kitchen appliance that helps you create perfectly shaped and deliciously crispy pizzelles in the comfort of your home. With so many options on the market, finding the best pizzelle maker can be overwhelming.
In this article, we will explore some of the best pizzelle makers available today and provide a comprehensive guide to help you make an informed decision when it comes to purchasing one for your home.
What Is a Pizzelle?
A Pizzelle is a traditional Italian waffle cookie that is made from a batter of flour, eggs, sugar, and butter or oil. Pizzelles are made using a pizzelle iron, which is a special type of waffle iron that imprints a pattern of fine, decorative lines on the cookie's surface.
The iron's plates heat the batter, and once cooked, the cookie is crispy and slightly sweet. Pizzelles are often flavored with vanilla, anise, or lemon, and they can be served plain, dusted with powdered sugar, or dipped in chocolate.
They are a popular treat during festive occasions like Christmas and Easter in Italy and are also enjoyed in Italian-American households across the United States. Pizzelles are delicious on their own or can be used as a base for other desserts, such as ice cream sandwiches or cannoli shells.
The Best Pizzelle Makers
CucinaPro Non-stick Electric Pizzelle Maker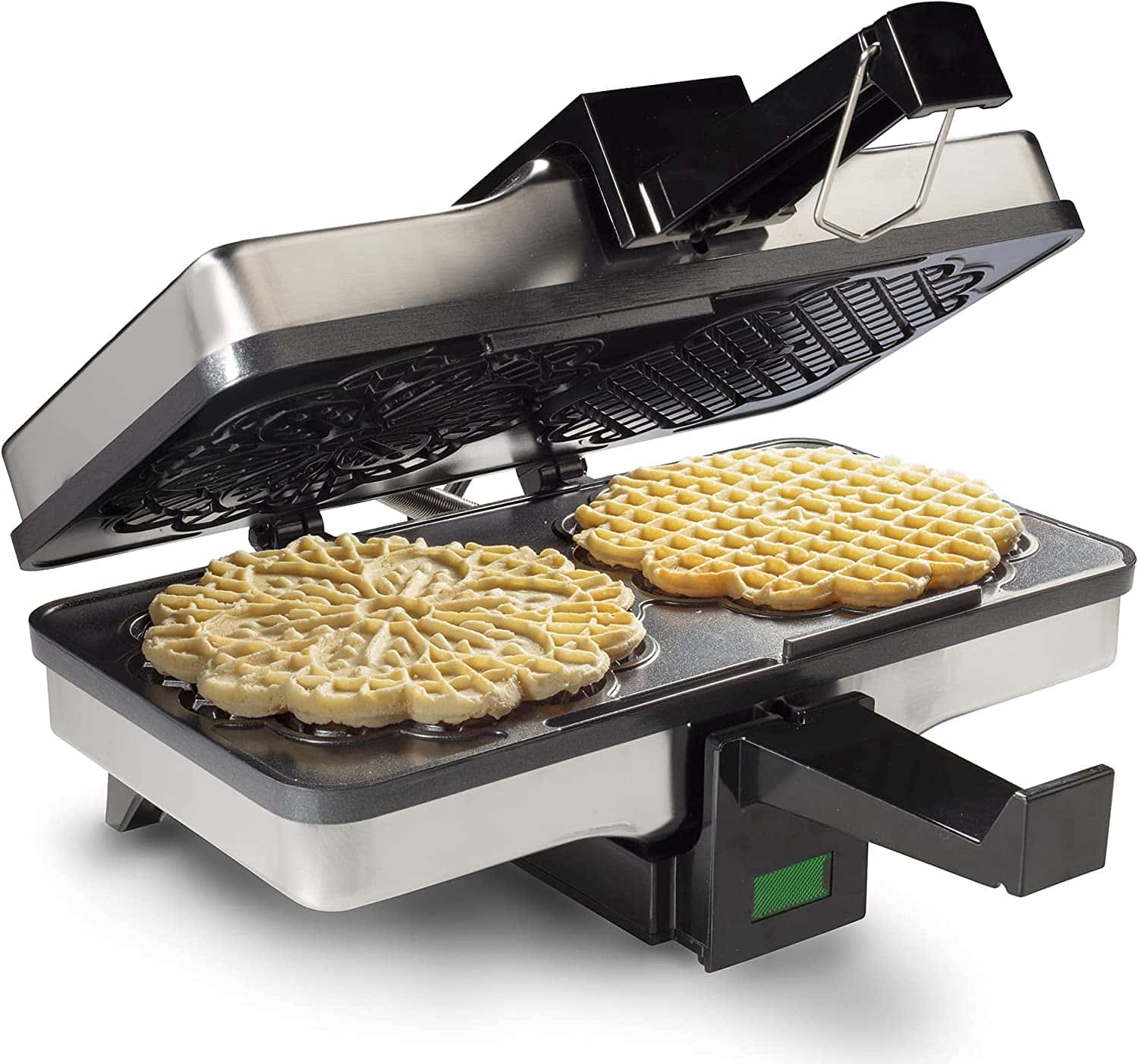 Special Feature Non-StickIndicator Light
Color Black
Material Iron
Brand CucinaPro
According to popular consensus, the CucinaPro is the most sought-after and highest-selling pizzelle maker on the market. This claim is substantiated by thousands of affirmative reviews across a variety of online retailers, including Amazon and Williams-Sonoma, as well as numerous photographs showcasing stunning pizzelles crafted by both amateur bakers and seasoned pizzelle aficionados.
The appliance has the capacity to make two 5-inch pizzelles simultaneously and is available in two variations: one with a Teflon surface for convenience and one with a polished stainless steel surface for those who prefer the traditional approach.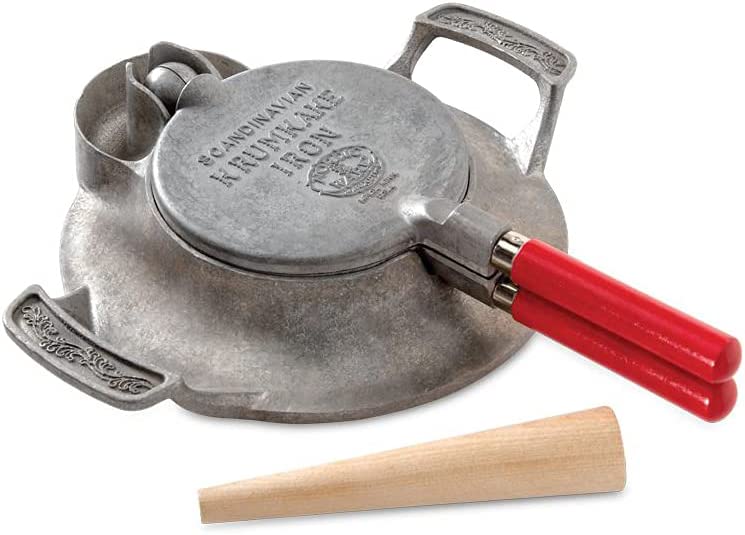 Special Feature Gas Stovetop Compatible, Electric Stovetop Compatible
Color Silver
Material Aluminum
Brand Nordic Ware
For those who wish to prepare their pizzelles in the conventional style, the Nordic Ware option is worth considering. It is capable of producing both Norwegian krumkake (which is pizzelle's Nordic counterpart) and Italian pizzelle on any type of stovetop burner, eliminating the need for electricity.
Although it may be expensive, the pizzelle iron boasts a robust cast-aluminum construction that is built to last and likely to become a cherished family heirloom.
CucinaPro Piccolo Pizzelle Baker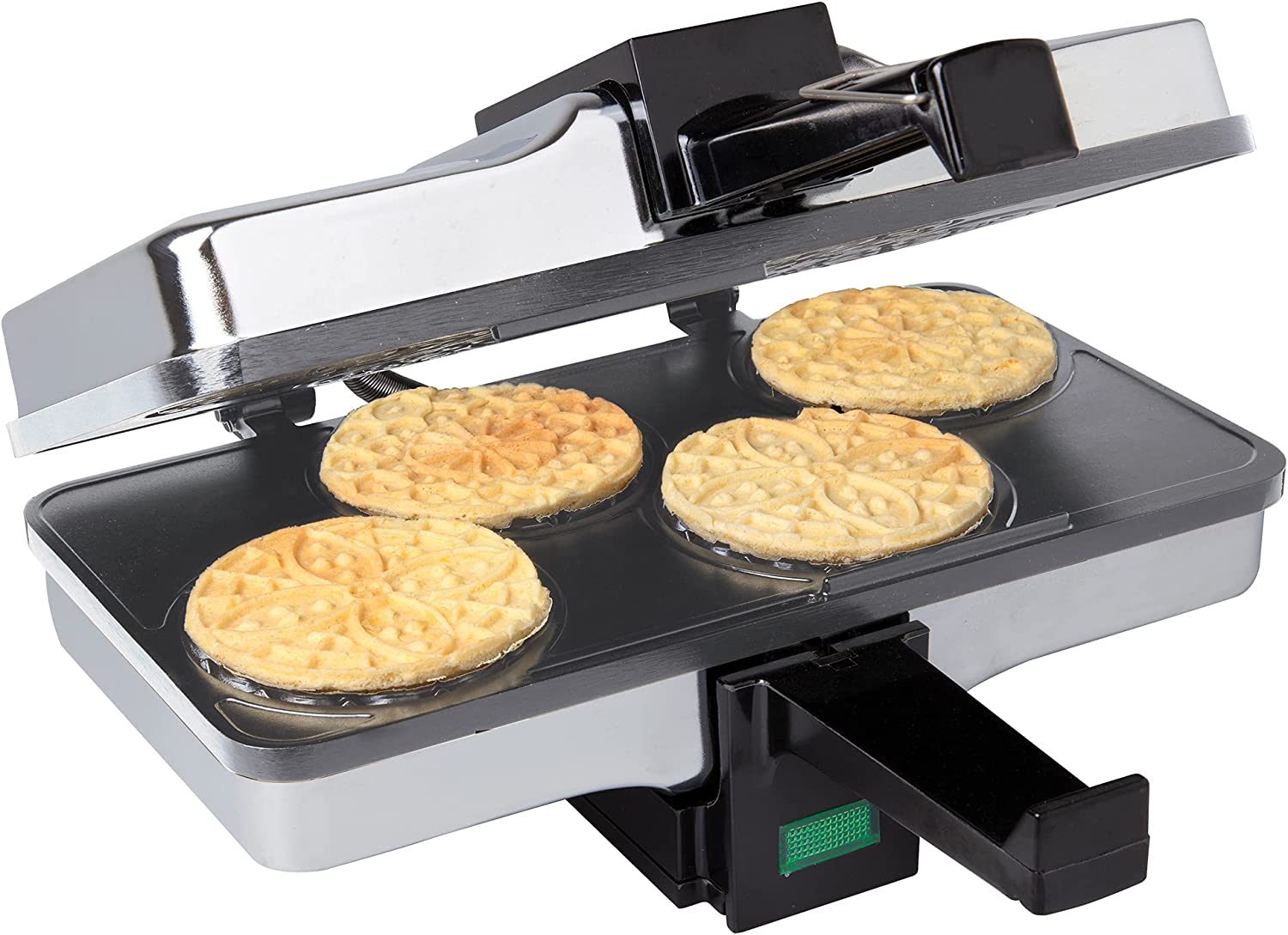 Brand CucinaPro
Color Black, Silver
Special Feature Indicator Light
Although not as compact as the aforementioned Dash model, the pizzelles produced by this maker are smaller in size.
In addition to their best-selling standard pizzelle maker, the manufacturers also offer a Piccolo (Italian for small) pizzelle maker that is capable of producing four 3 1/4-inch pizzelles simultaneously, allowing you to create dozens of these delectable treats in a matter of minutes.
The Dash Mini Pizzelle Maker is a compact and adorable kitchen appliance designed to make mini-sized pizzelles. With a non-stick surface, the pizzelle maker produces two 4-inch pizzelles at a time, making it perfect for small batches or for a quick treat.
The pizzelle maker also features a fun and colorful design, making it an ideal gift for kids who enjoy baking. The appliance is easy to use, lightweight, and has a compact size that makes it easy to store in your kitchen. Overall, the Dash Mini Pizzelle Maker is a great option for those who love pizzelles and want a quick and convenient way to make them at home.
The Palmer Pizzelle Maker is a high-quality appliance that is designed to make delicious and crispy pizzelles at home. With a sturdy cast aluminum construction and non-stick surface, this pizzelle maker is built to last and ensures easy release of the pizzelles.
The Palmer Pizzelle Maker can make two 5-inch pizzelles at a time and features a traditional design that imprints a beautiful snowflake pattern on each cookie. The appliance also has a built-in thermostat that maintains a consistent temperature, ensuring that the pizzelles are evenly cooked. Additionally, the Palmer Pizzelle Maker is easy to use and clean, making it a great choice for those who want a high-quality appliance that will last for years to come.
Overall, the Palmer Pizzelle Maker is a great investment for those who are serious about making pizzelles and want a reliable appliance that can produce perfect pizzelles every time.
How Do Pizzelle Makers Work?
Pizzelle makers are designed to make traditional Italian pizzelles, which are thin, crispy waffle-like cookies with a snowflake or floral pattern. These appliances work by heating up two plates or grids and pressing the batter between them to create the characteristic shape and texture of a pizzelle.
To make pizzelles, the user typically first preheats the appliance and then adds a small amount of batter onto the heated plate or grid. The top plate is then closed, pressing the batter between the two hot surfaces, and the pizzelle is cooked for a short time until it is crispy and golden brown.
Most pizzelle makers have non-stick surfaces to prevent the batter from sticking and to make cleaning easier. They may also come with adjustable temperature controls to allow for customization of the cooking process.
Overall, pizzelle makers are simple to use and can produce delicious and authentic pizzelles with little effort. They are a popular appliance for those who love Italian cuisine and want to make these traditional cookies at home.
Bottom Line
Creating pizzelles is an enjoyable and easy endeavor, though a pizzelle maker is necessary. To assist you, we've tested the Cucina Pro and reviewed other well-liked pizzelle makers.
Of the available options, we recommend the polished presses by Cuisinart or Cucina Pro. If you're searching for an affordable, compact, and easily storable option, the Dash pizzelle maker may be ideal.
Read More