Welcome to a culinary journey that celebrates the vibrant flavors of summer with our collection of 8 delicious zucchini recipes. As the sun bathes the world in warmth, it's time to embrace the bounty of fresh, seasonal produce. Zucchini takes center stage in these mouthwatering dishes, offering a perfect blend of nutrition and taste.
From refreshing salads to savory main courses, these recipes are designed to elevate your summer dining experience. Whether you're a seasoned chef or a kitchen novice, our easy-to-follow instructions and wholesome ingredients make these dishes a breeze to prepare. Let's dive into the world of culinary creativity and make this summer unforgettable with the versatile and delectable zucchini.
8 Delicious Summer Zucchini Recipes
1. Zucchini Noodle Salad with Lemon-Herb Dressing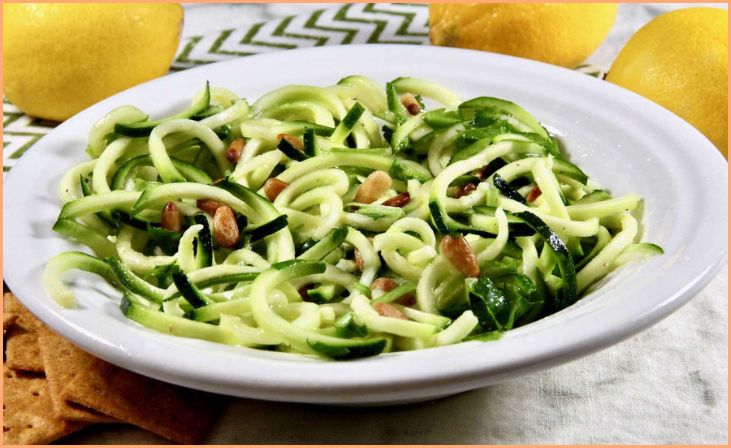 Transform your summer salads with this refreshing Zucchini Noodle Salad. Begin by spiralizing three medium-sized zucchinis into noodles. In a large bowl, combine the zucchini noodles with cherry tomatoes, thinly sliced red onions, and a handful of fresh basil leaves. For the zesty dressing, whisk together olive oil, lemon juice, minced garlic, salt, and pepper. Toss the salad with the dressing until evenly coated, and let it chill in the refrigerator for at least 30 minutes. Serve this vibrant dish as a light lunch or a side at your next barbecue.
Ingredients:
3 medium zucchinis
1 cup cherry tomatoes, halved
1/2 red onion, thinly sliced
Fresh basil leaves
1/4 cup olive oil
2 tablespoons lemon juice
2 cloves garlic, minced
Salt and pepper to taste
2. Grilled Zucchini and Feta Skewers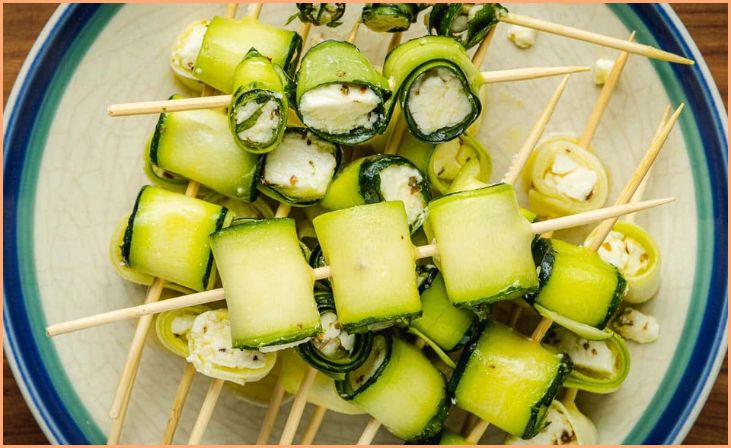 Fire up the grill for these delectable Grilled Zucchini and Feta Skewers. Cut zucchini into thick rounds and marinate them in a mixture of olive oil, balsamic vinegar, minced rosemary, salt, and pepper. Thread the zucchini rounds onto skewers alternately with chunks of feta cheese. Grill the skewers until the zucchini is tender and has a smoky char. The feta becomes wonderfully creamy, complementing the savory zucchini. Serve these skewers as a delightful appetizer at your summer gatherings.
Ingredients:
4 medium zucchinis
1/4 cup olive oil
2 tablespoons balsamic vinegar
1 tablespoon fresh rosemary, minced
Salt and pepper to taste
1 cup feta cheese, cut into chunks
Also Read: Bean Recipes
3. Zucchini and Corn Fritters with Avocado Crema
Experience the perfect blend of crunch and creaminess with Zucchini and Corn Fritters. Grate zucchini and mix it with fresh corn kernels, chopped green onions, flour, baking powder, and eggs. Pan-fry spoonfuls of the batter until golden brown. For the avocado crema, blend ripe avocados with Greek yogurt, lime juice, cilantro, and salt. Top the fritters with the avocado crema and enjoy these savory delights as a delightful brunch or appetizer.
Ingredients:
2 medium zucchinis, grated
1 cup fresh corn kernels
3 green onions, chopped
1 cup all-purpose flour
1 teaspoon baking powder
2 eggs
Oil for frying
2 ripe avocados
1/2 cup Greek yogurt
2 tablespoons lime juice
Fresh cilantro, chopped
Salt to taste
4. Lemon Garlic Roasted Zucchini
For a simple yet flavorful side dish, try Lemon Garlic Roasted Zucchini. Preheat your oven and cut zucchinis into thick slices. Toss them in a mixture of olive oil, minced garlic, lemon zest, salt, and pepper. Spread the zucchini slices on a baking sheet and roast until they are tender and slightly caramelized. The combination of citrusy lemon and aromatic garlic enhances the natural sweetness of the zucchini, making it a perfect accompaniment to grilled meats or as a standalone side.
Ingredients:
4 medium zucchinis, sliced
1/4 cup olive oil
3 cloves garlic, minced
Zest of 1 lemon
Salt and pepper to taste
5. Stuffed Zucchini Boats with Quinoa and Vegetables
For a wholesome and satisfying meal, try Stuffed Zucchini Boats filled with quinoa and vegetables. Cut zucchinis in half lengthwise and scoop out the seeds, creating a boat-like shape. Cook quinoa according to package instructions and mix it with sautéed bell peppers, onions, and cherry tomatoes. Fill the zucchini boats with the quinoa mixture and bake until the zucchini is tender. Top with a sprinkle of feta cheese and fresh parsley for a delightful, protein-packed dish.
Ingredients:
4 medium zucchinis, halved
1 cup quinoa, cooked
1 bell pepper, diced
1 onion, diced
1 cup cherry tomatoes, halved
Feta cheese for topping
Fresh parsley, chopped
6. Zucchini and Ricotta Galette
Impress your guests with a Zucchini and Ricotta Galette, a rustic and savory pastry. Start by rolling out a pie crust and spreading a layer of creamy ricotta cheese. Arrange thinly sliced zucchini on top and fold the edges of the crust over the filling. Put it in the oven until the crust turns golden brown and the zucchini is soft. Garnish with fresh thyme and a drizzle of honey for a touch of sweetness. This galette makes for a stunning centerpiece at summer brunches or dinners.
Ingredients:
1 pie crust
1 cup ricotta cheese
2 medium zucchinis, thinly sliced
Fresh thyme
Honey for drizzling
7. Zucchini and Chickpea Curry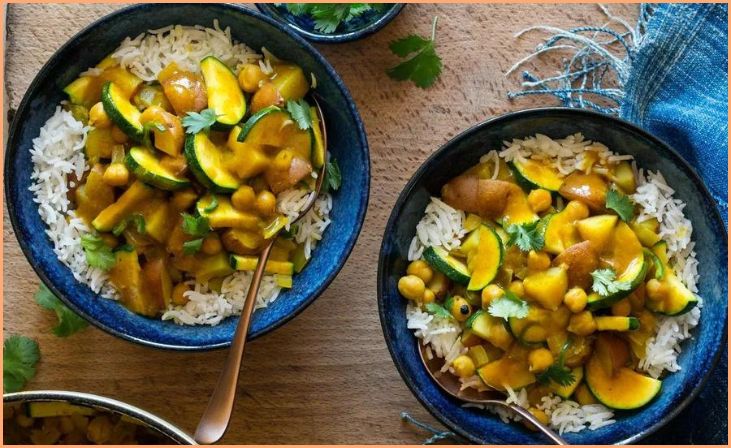 Add a touch of spice to your summer menu with Zucchini and Chickpea Curry. Sauté zucchini, chickpeas, and diced tomatoes in a fragrant blend of curry spices, including cumin, coriander, and turmeric. Simmer the mixture until the zucchini is tender and the flavors meld together. Serve this hearty curry over rice or quinoa for a satisfying and flavorful vegetarian meal that will please your taste buds and warm your soul.
Ingredients:
3 medium zucchinis, diced
1 can chickpeas, drained and rinsed
1 can diced tomatoes
2 teaspoons curry powder
1 teaspoon ground cumin
1 teaspoon ground coriander
1/2 teaspoon ground turmeric
Salt and pepper to taste
Cooked rice or quinoa for serving
Also Read: Chicken Dinner Recipes
8. Chocolate Zucchini Bread
Indulge your sweet tooth with a twist of health in Chocolate Zucchini Bread. Grate zucchini and fold it into a rich chocolate batter made with flour, cocoa powder, sugar, eggs, and oil. Pour the batter into a loaf pan and bake until a toothpick inserted in the center comes out clean. The zucchini adds moisture and a subtle earthy flavor to the chocolatey goodness. Slice and savor this delightful treat with a cup of coffee or as a dessert that combines the best of summer produce with the comfort of chocolate.
Ingredients:
2 cups grated zucchini
1 3/4 cups all-purpose flour
1/2 cup cocoa powder
1 1/2 cups sugar
3 eggs
1/2 cup vegetable oil
1 teaspoon vanilla extract
1/2 teaspoon baking powder
1/2 teaspoon baking soda
1/2 teaspoon salt
Conclusion
As summer's bounty graces our tables, these 8 delicious zucchini recipes offer a culinary celebration of the season. From light and refreshing to hearty and satisfying, each dish showcases the versatility of zucchini. Whether you're hosting a summer soirée or enjoying a quiet evening at home, these recipes bring the essence of summer to every bite. Elevate your dining experience with these flavorful creations and savor the freshness of seasonal produce. Embrace the joy of cooking and make this summer a memorable one with our handpicked zucchini recipes that are sure to delight your taste buds.
FAQs
Absolutely! Feel free to experiment with various zucchini varieties; they all work well in these recipes, adding a delightful twist to the flavors.
Yes, all of the recipes featured are vegetarian-friendly, making them perfect for those seeking meatless options without compromising on taste.