Is Tramontina Cookware Good: Having the correct equipment is the key to success in any kitchen, whether a home cook or a professional chef. However, it may be incredibly daunting to investigate what cookware is the finest and precisely the best for your requirements. This post is our Tramontina pots and pans review, which features a comprehensive selection of excellent cookware brands that are value-priced and might meet your kitchen's demands. We will include additional information about the firm, many of our Tramontina cookware evaluations, and some frequently asked questions. By the end, you will know whether purchasing Tramontina cookware is right for you.
History of Tramontina
It has been almost a century since Tramontina began manufacturing cookware, cutlery, and other household appliances for the Brazilian market.
Since its inception in Brazil in 1911, the firm has placed a strong emphasis on integrating innovation with a long-standing legacy of quality, which has contributed to its continued growth and success. Tramontina began operations in the United States in 1986, which assisted in establishing the company's brand and reputation on the worldwide market.
Tramontina is now considered one of the most prominent corporations in Brazil. It is also well-known across the globe for the high quality and value it provides, and it is present in more than 120 countries. Despite the passage of time, the company's primary emphasis has remained the same: "innovation, design, technology, quality, and the joy of doing things well."
Is Tramontina Good Cookware?
Is Tramontina good cookware? Whatever your culinary requirements and tastes, several alternatives are available to choose from. They provide something for every home chef, from their high-end Tramontina Tri-Ply Clad Cookware to their lower-priced nonstick cookware alternatives. Here are some in-depth evaluations of the most popular Tramontina cookware products available today.
A terrific addition to any home cook's or professional chef's kitchen, Tramontina's 12-Piece Gourmet Cookware Set is made possible by the set's robust stainless steel construction and affordable price point. Many pieces are available in mirror-polished stainless steel, and they are an excellent starting point for those new to stainless steel cooking.
Both amateur cooks and professional chefs will find this 12-piece set a worthwhile investment since it offers top-of-the-line quality and performance in every item. In addition, because of its Tri-Ply Clad structure, the cookware distributes heat evenly throughout, preventing hotspots and ensuring uniform heating throughout.
Stainless steel 18/10, aluminum core, and magnetic stainless steel are used to construct the triple-layer, ensuring that it is oven-safe to 500 degrees Fahrenheit and compatible with all cooktops, including induction cooktops.
It has an exquisite and appealing appearance due to the mirror-polished outside and satin-finished inside, but it also has durability and the ease of being simple to clean. The handles are cast stainless steel and are riveted on to offer additional strength and stability. The stainless steel cooking surface is accessible across the complete cookware set, and you will be glad you invested in this collection of cookware. Finally, the 18/10 stainless steel lids are perfectly fitted to guarantee that heat and nutrients are locked in, making them ideal for the culinary enthusiast who is just developing their cooking method.
The Tramontina Gourmet Stainless Steel Set is NSF certified as professional cookware. It is an excellent choice for professional chefs and amateur cooks who start with various culinary techniques. This Tramontina Try-Ply Clad cookware set is the finest that Tramontina offers in quality and performance.
If you're looking for high-quality, long-lasting cookware that won't break the budget, look no further. There are almost 1,900 reviews on Amazon, giving it a rating of 4.6 out of 5 stars (see them here). This is unquestionably a fantastic option for any kitchen.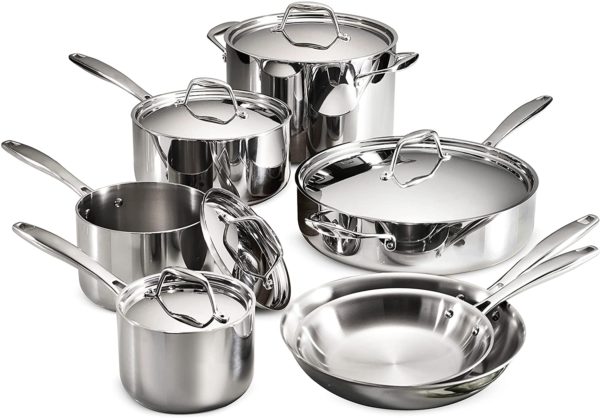 It Includes:
8-inch Frying Pan
10-inch Frying Pan.
1.5-quart covered sauce pan
5-quart Covered Deep Sauté Pan
2-quart Covered Sauce Pan
8-quart covered stock pot
3-quart Covered Sauce Pan
Pros
Oven safe up to 500 degrees Fahrenheit.
Compatible with various types of cooking surfaces, including induction cooktops
Comfortable handles
High heat conductivity – warms up from the bottom as well as from the sides.
Construction is of high quality.
Construction with three plies of plywood
Cons
The edges of the frying pan have a gentle slope, making it difficult to turn.
The 8-inch and 10-inch fry pans
This Tramontina 18-piece nonstick cookware set is a complete nonstick set that does a breeze cooking and cleaning. With the Tramontina PrimaWare cookware set, any home chef will have everything they need to finish their kitchen. It has 18 different items, including seven cooking utensils. It is a fantastic choice for anybody looking to start a new kitchen or for anyone who wants to redo their existing kitchen fully.
This lightweight cookware, made of aluminum, has a patterned nonstick cooking surface, tempered glass lids, and stay-cool handles to keep you comfortable. It may be washed in the dishwasher for convenience and practicality in the kitchen. Tramontina's PrimaWare 18-Piece Nonstick Cookware Set, available in either red or steel grey, is a fantastic choice for any kitchen. These nonstick pans are an excellent option for inexperienced chefs who want to start in the kitchen since they need less investment than the Tri-ply coated cookware set listed above.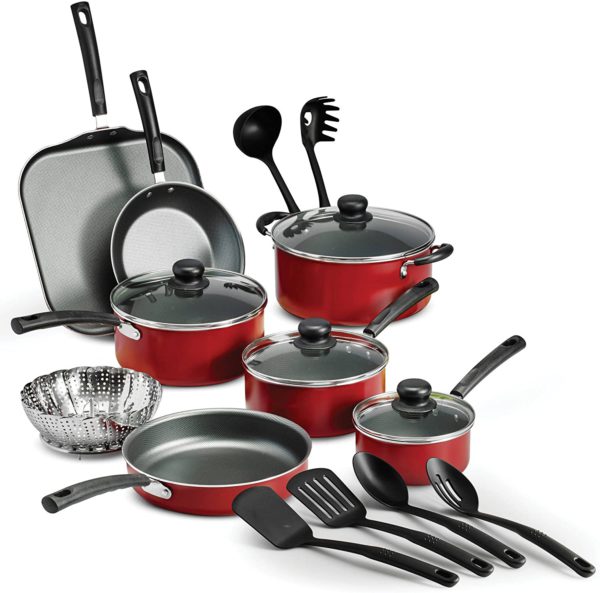 It Includes:
Solid Spoon
Slotted Spoon
Solid Turner
Slotted Turner
Pasta Spoon
Ladle
1-quart Covered Saucepan
2-quart Covered Saucepan
3-quart Covered Saucepan
4-quart Covered Dutch Oven
Stainless Steel Steamer
8-inch Sauté Pan
9-inch Deep Sauté Pan
11-inch Griddle
Pros
Excellent value for money
Coating with a nonstick surface
Dishwasher-safe for convenience.
Oven safe up to 350 degrees Fahrenheit Lightweight
Handles that keep their cool
Lids made of tempered glass with stainless steel rims
Cons
Induction is not compatible with this.
Some reviewers complained that the color faded after a while.
It is made of heavy-gauge, cold-forged aluminum with a porcelain enamel outside and ceramic inside coating, and it comes with a 10-piece Ceramic Cookware Set. Even though they are not the most extraordinary ceramic cookware, they are excellent entry-level ceramic cookware options.
This dishwasher-safe cookware set is constructed of heavy-gauge, cold-forged aluminum that has been coated on the outside with porcelain enamel and on the inside with ceramic. An equal heat distribution, long-lasting durability, and ease of cleanup are all made possible by this design. The ceramic interior provides all of the advantages of nonstick pans while also free of PFOA (1), PTFE, lead, and cadmium. In addition, the ceramic interior is dishwasher safe.
Designed with ergonomics in mind, Tramontina's ceramic cookware has soft-grip handles and glass lids that are heat- and shatter-resistant for maximum comfort and functionality in the kitchen. In addition, the cookware is oven safe up to 350 degrees Fahrenheit and suitable with gas, electric, and ceramic glass cooktops. This cookware set, designed to provide the highest quality and value to home cooks and professional chefs, is presently rated 4.5 out of 5 stars on Amazon.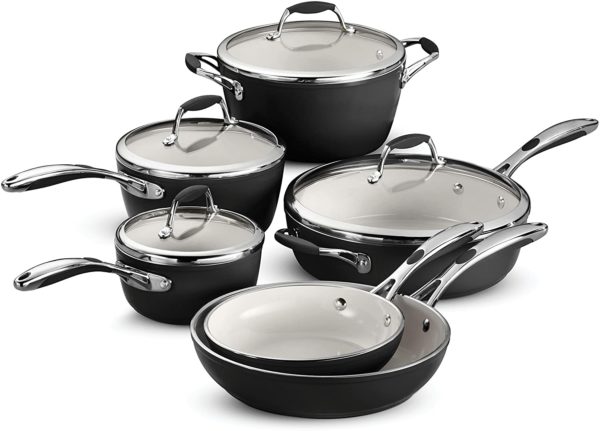 It Includes:
8-inch Frying Pan
10-inch Frying Pan
3-quart Covered Sauce Pan
5-quart Covered Dutch Oven
11-inch Covered Deep Skillet
1.5-quart Covered Sauce Pan
Pros
The inside is non-toxic (PFOA-and PFTE-free).
The oven is safe to 350 degrees Fahrenheit and easy to clean.
Excellent value for money.
Nonstick coating
Cons
Induction is not compatible with this.
Overall Tramontina Pan Reviews
Suppose you currently own the most refined cookware set and are looking to add one or two more cookware pieces to your collection. In that case, Tramontina offers some excellent alternatives for you to consider. Here are our Tramontina's pan evaluations of their most popular products, as submitted by our readers.
Cast iron is used to construct Tramontina's 10-inch enameled cast-iron skillet with cover, which is coated with a brilliant porcelain enamel finish to give exceptional superheat retention and distribution while also providing the ease and portability of enamel. In addition, the inside cooking surface of the skillet is covered with a matte black enameled-porcelain coating, which maintains the classic aesthetic of cast iron while providing the convenience of ceramic cooking.
Tramontina created their Cast Iron Gourmet Collection to provide all home cooks with the finest quality and value. Their skillet is an example of how they accomplished this goal. The robust handles are an essential feature of the design, as they provide support and ease while transferring the item. The lid is constructed with self-basting condensation ridges to ensure that vapors are directed back onto the food in a consistent manner. Pouring lips are conveniently located on both sides of the skillet to aid in transferring meals and removing liquids.
Overall, this is a fantastic choice for anybody who wants the heat retention of cast iron cookware with the convenience of nonstick ceramic cookware in one package.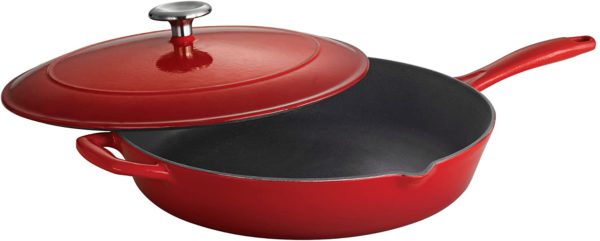 This 10-inch fry pan is NSF-certified for use in commercial kitchens, but it is also suitable for use in the home kitchen. Tramontina's Pro Series Restaurant Frying Pan is NSF-approved as professional cookware, making it an excellent choice for any restaurant. This product is intended to resist the harsh usage and abuse of a professional kitchen, yet it can also be used at home with no difficulty.
Designed for industrial use, this heavy-gauge aluminum fry pan has a reinforced nonstick interior that promotes rapid, uniform heat distribution and simple food release. It is 10 inches in diameter. With a replaceable silicone soft-grip, this handle is glued to the side of the case to provide additional support. It is also available in three other sizes: eight-inch, twelve-inch, and fourteen-inch. In addition to boiling eggs and other sticky items, it also allows culinary lovers like yourself to enjoy the process of preparing meals at home.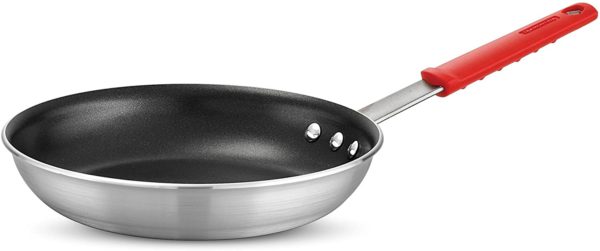 It is made of 18/10 stainless steel, has an aluminum core, and is magnetic stainless steel. It has an impact-bonded base with triple layers of 18/10 stainless steel, an aluminum core, and magnetic stainless steel. It is designed to save energy and prepare meals in a third of the time, preserving nutrients for a better eating experience.
A manual pressure cooker compatible with all cooktops, such as Tramontina's Pressure Cooker, is a fantastic alternative for anybody seeking control of a manual pressure cooker.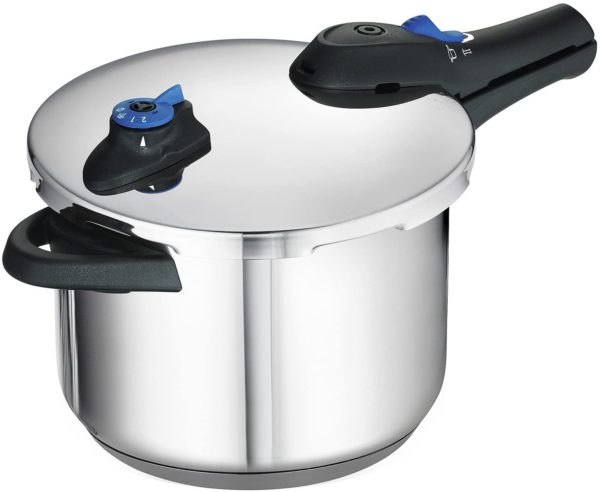 6.5-quart Enameled Cast Iron Dutch oven by Tramontina is an excellent addition to any kitchen. In addition to being composed of heavy-gauge cast iron, this 6.5-quart circular Dutch oven is covered with a brilliant porcelain enamel finish, which gives the benefits of both cast iron and porcelain in terms of superheat transmission while also requiring less care than porcelain. The inside cooking surface of the Dutch oven has been covered with an off-white enameled-porcelain coating for nonstick properties, and it is free of PFOA and PTFE chemicals.
Tramontina created their Cast Iron Gourmet Collection to provide the finest quality and value to all home cooks, and their Dutch oven is a prime example of how they do this. The firm handles are an intrinsic element of the design, offering support and simplicity when moving from the burner to the baking sheet. In addition, the lid is constructed with self-basting condensation ridges to ensure that vapors are directed back onto the food in a consistent manner.
Overall, this is a fantastic choice for anybody seeking a nice Dutch oven that combines the heat retention of cast iron with the ease of nonstick ceramic cookware to create delicious meals.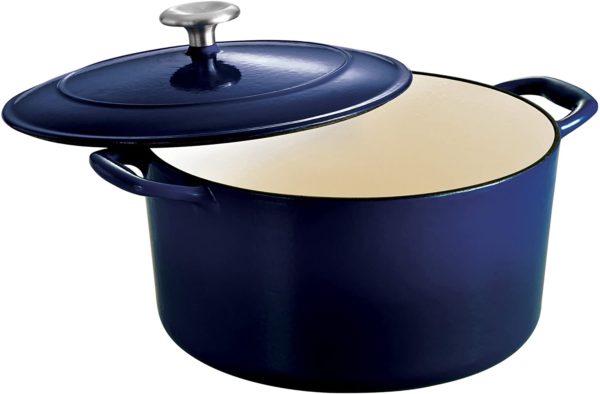 Conclusion
Is Tramontina Cookware Good? Yes, Tramontina cookware is definitely worth the investment, particularly if you are looking for high-quality cookware at an affordable cost. They have a wide range of product lines, ranging from stainless steel to ceramic, to accommodate the needs of all customers. They also have a good reputation on Amazon, with most of their items earning a rating of 4.5 or above. Tramontina is a fantastic choice for any kitchen and should be considered.
Also Check:
Who Makes Frigidaire Refrigerators: A Complete Overview
Cocotte vs Dutch Oven: Learn These Incredible Differences Before Purchasing
Pellet Ice Maker: Learn How it Works in Just 60 Minutes