Bosch 500 Series Dishwasher Reviews – Bosch is well-known for its outstanding dishwashers. Your dishes will be clean without a hitch, thanks to some of the world's most popular and dependable dishwashers. The market for Bosch dishwashers is quite competitive, which means you have a plethora of options.
Bosch dishwashers are high-performing, silent, and energy-efficient. These are some of the reasons behind their popularity. The Bosch 500 series dishwasher follows on from the Bosch 300 series. Make your buy after reading our bosch 500 series dishwasher reviews.
The inside of the Bosch 500 series dishwasher is composed of stainless steel and features a tall tub. The dishwasher has a movable third rack for 30% extra loading capacity and can store up to 16 place settings. It also has leak protection, an additional drying mode, and smooth gliding racks.
Bosch Dishwasher 500 Series Reviews
Cleaning Capacity
With the 500 series, you have five distinct wash cycle choices that allow you to operate the dishwasher effectively to produce clean dishes.
The usual wash cycle is designed for moderately dirty dishes and performed admirably in our tests. The Heavy cycle uses a bit more time and water but results in truly pristine dishes. Finally, the auto wash cycle is excellent for washing plates with varying quantities of grime.
Bosch 500 series dishwashers are often regarded as the best cleaning dishwashers on the market.
Space And Design
The top-mounted controls on the 500 Series dishwashers are unseen while the dishwasher is closed. Models in the 500 series are also available with bar handles.
Because the tub is stainless steel, it reduces the sound of spraying water and enhances the dishwasher's general health.
There are 16 place settings in this dishwasher, which makes it a great choice for a family of 5 to 6 people. Rackmatic® allows you to tailor each load to your specific requirements, with three variable height levels and up to nine unique rack locations.
You may raise the upper rack to create room for taller pots on the lower rack. It can readily handle goods that are deep, tall, or unusually shaped. The 500 series dishwashers include a movable third rack, which adds 30% extra loading capacity and stores a lot of cutlery.
Noise
Dishwashers of the Bosch 500 series are exceptionally silent.
The Bosch 500 series dishwasher has a noise level of 44 decibels. So when it's running, you can scarcely hear it.
Drying
Customers have previously expressed dissatisfaction with the drying performance of the Bosch dishwasher. Bosch introduced innovative technology AutoAir Dry with the 500 series.
Models with AutoAir Dry will open the door and allow moisture to leave. This allows fresh air to enter and improves drying without consuming additional electricity.
Bosch 500 Series SHPM65Z55N Dishwasher
Bosch 500 Series SHPM65Z55N Dishwasher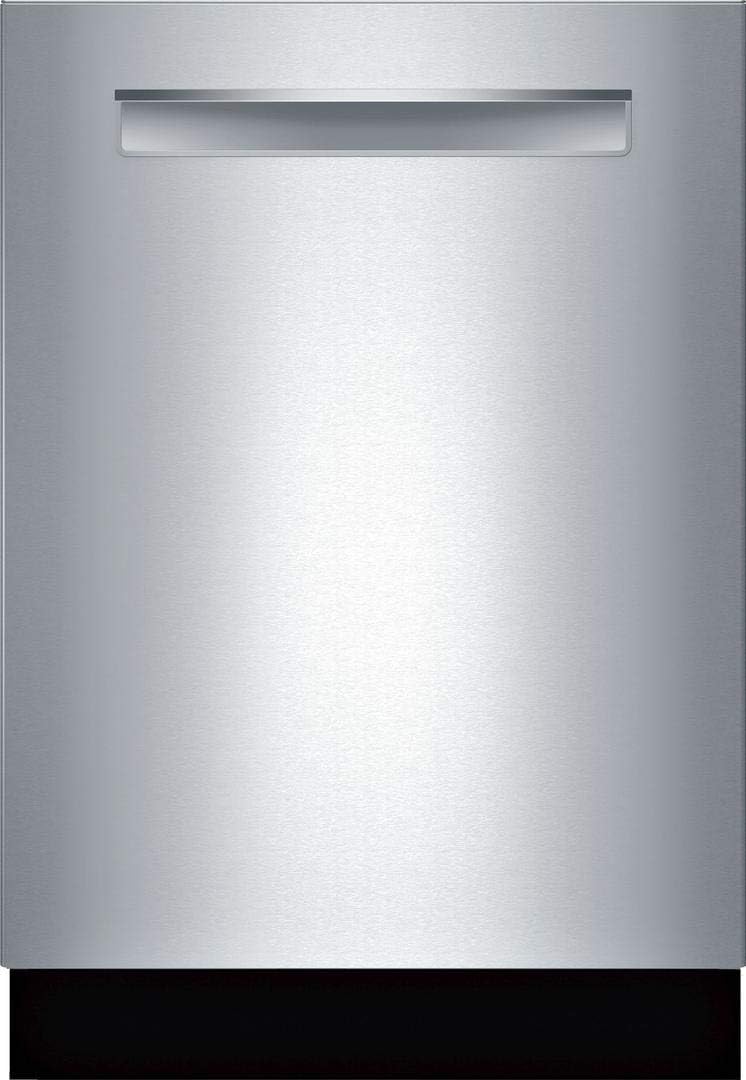 Quick Review
Dimensions (HxWxD)(in): 33 7/8″ x 23 9/16″x 23 3/4″
Capacity: 16 Place Setting
Noise: 44 dBA
Tub material: Stainless Steel
Third rack: Flexible 3rd Rack
Wash cycles: 5
Rackmatic®/ AutoAir™ option for better drying
EasyGlide™ rack system/ InfoLight®
Capacity: 16 Place Setting
Noise: 44 dBA
Tub material: Stainless Steel
Third rack: Flexible 3rd Rack
Wash cycles: 5
Dimensions (HxWxD)(in): 33 7/8″ x 23 9/16″x 23 3/4″
Rackmatic®
AutoAir™ option for better drying
EasyGlide™ rack system
InfoLight®
Buy Link: Amazon.com
Dishwasher racks aren't very unique, consisting mainly of latticework and tines. However, the Bosch SHPM65Z55N packs a lot of extra functionality into its three racks. To begin, all three racks have adjustable tines that may be folded down to accommodate bulky goods such as pots or huge pottery. The Bar Handle 500 Series Dishwasher SHXM65Z55N has a stainless steel interior and can accommodate up to 16 place settings. It also has a flexible third rack that provides 30% more loading capacity than the standard second rack. Additionally, the AutoAirTM technology is included for improved drying.
The dishwasher has five wash cycles (Speed 60, Auto, Normal, Heavy, Rinse) and five settings, which enable you to operate the dishwasher more efficiently and effectively, resulting in pristine dishes every time. You will discover that 87 percent of dishes will completely dry, and the remaining 13 percent were somewhat dry. This is due to the Bosch employing extremely hot water during the final rinse in conjunction with its AutoAir feature, which opens the door after a cycle to enable water vapor to evaporate considerably more quickly.
The Bosch SHPM65Z55N dishwasher operates at a whisper-quiet 44 decibels. When it's running, you can't tell it's there since it is so quiet.
The AutoAirTM feature of the dishwasher automatically opens the door at the conclusion of the drying cycle to allow fresh air to flow, resulting in drier dishes. This feature outperforms the Bosch 300 series dishwashers in terms of drying performance.
However, this dishwasher is not so energy efficient. If we care about energy efficiency, there are a variety of options available in the market.
Pros
Superb cleaning power.
Excellent value for money.
Flexible Rack
AutoAirTM Drying
Cons
Manually clean the filter.
pricier than its rivals
Bottom line
These dishwashers provide a superior clean, have fantastic functionality, and are proudly manufactured in the United States. So if you're searching for a dishwasher that's both affordable and dependable, you don't have to go much farther than this.
We propose that you consider purchasing a dishwasher from the Bosch 500 series, whether you are redesigning your kitchen or just replacing your old dishwasher. They all provide the same functionality, and you may choose whatever door type or color best complements the design of your kitchen. Even though there will be no visible brand once the door is closed, you will be able to tell that it is a Bosch as soon as you press the start button due to the silence.
Also Check:
What is Rapini? – Aromatic Flavors With Health Benefits
How to Tell if Mushrooms are Bad? – Store Them For a Limited Time Only!